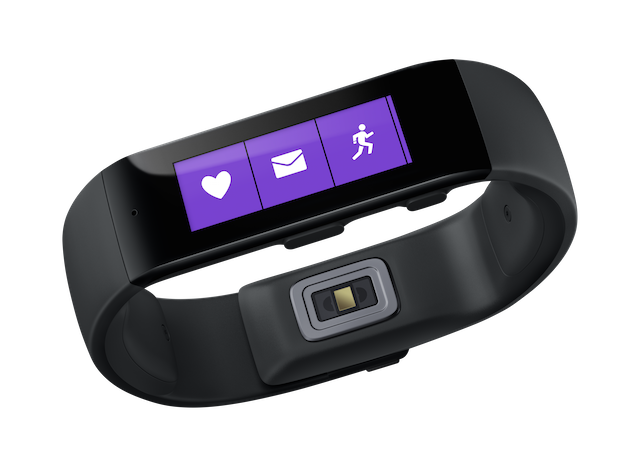 After some speculation and buzz, Microsoft made public and available not a smartwatch but a smartband instead that works with all the 3 major smartphones operating system (Windows Phone, iOS and Android).
It started to popup today in app stores a new Microsoft application called Microsft Band Sync or Microsoft Health depending of the O.S.
The Microsoft Band it's similar to other fitness bands but will also allow users to view and sync emails, contacts, task, etc.
This again shows Microsoft trying to make a change on the way it looks to the market and getting late to a saturated market.
The smarband it's only available on the U.S. markets right now with a nice price of 199$.
Here's the promotional video of Microsoft Smartband:
Microsoft Smartband Specifications
• Band material: Thermal plastic elastomer with adjustable fit clasp
• Display Size: 11mm x 33mm
• Display Type: Capacitive 1.4" TFT full color display
• Resolution: 320 x 106 pixels
• Battery life: 48 hours of normal use; advanced functionality like GPS use will impact battery performance
• Average charge time: Full charge in less than 1.5 hours
• Battery type: Dual 100mAh rechargeable lithium-ion polymer batteries
• Operating temperature ranges: -10°C to 40°C (14°F to 104°F)
• Maximum operating altitude: Approximately 12,000m
• Sensors:
o Optical heart rate sensor
o 3-axis accelerometer/gyro
o Gyrometer
o GPS
o Ambient light sensor
o Skin temperature sensor
o UV sensor
o Capacitive sensor
o Galvanic skin response
o Microphone
• Additional technology: Microphone, Haptic vibration motor
• Connectivity:Bluetooth 4.0 (Low Energy)
• Supported mobile devices: Works with Windows Phone 8.1 update with Bluetooth, iOS 7.1 and later: iPhone 4S, 5, 5C, 5S, 6, 6 Plus and Android 4.3-4.4 phones, with Bluetooth.
• Charge cable connector: Magnetically-coupled connector to USB
• Water resistance
• Dust-and-splash resistant
• What's in the box:
o Microsoft Band
o USB magnetic connector cable
o Safety & warranty document
o Quick Start Guide